Commercial Soap Dispenser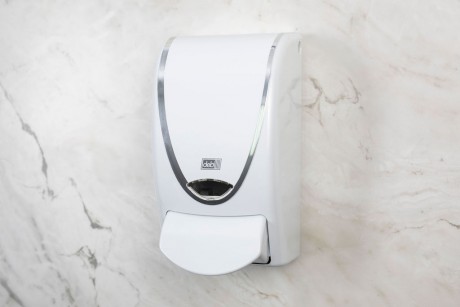 A Full Range of Soap Dispensers Available in Melbourne, Brisbane and Gold Coast
Regardless of the size of your business, ensuring your bathroom is well stocked with soap and soap dispensers is a top priority. To keep in line with OH&S guidelines, soap must be easily accessible to employees, clients and customers.
At Ozifresh, we're proud to offer a comprehensive selection of hygiene and sanitary products and services to business around Melbourne, Brisbane, Gold Coast and everywhere in between, including our selection of foam and liquid soap dispenser units. Our wide variety of soap dispensers can complement any style of bathroom.
We have units to suit all decors, and we offer a number of options including bulk fill, automatic and foam soap dispensers. Each dispenser has been sourced for its quality and reliability. To find the right one to suit your unique needs, contact the Ozifresh team today.
A comprehensive range of products, including our foam soap dispenser
Hand sanitiser Specialists
For nearly 40 years, Ozifresh have been the industry leaders when it comes to providing odour control products and hygiene services. It has always been our belief that it's the little things that matter, and that a clean and sanitary bathroom is one of the most important aspects of any business, even though it can be an afterthought at times. As such, we offer a range of foam soap and liquid soap dispenser units, to ensure the little things have been taken care of for you, ensuring your customers and staff have access to the highest level of cleanliness.
Our products have always been of the highest quality and the best prices, and they always will be. Let us take the stress out of managing a clean bathroom, and select one of our great services:
Complete Washroom HygieneServicing
And so much more
Contact the reputable name in soap dispenser services
With major offices located in Melbourne, Brisbane and Gold Coast, our soap dispenser range and other services are readily available Australia wide. Discover the Ozifresh difference, and experience our exceptional customer service, complete satisfaction, prompt delivery and maintenance at affordable prices.
If you have any questions regarding our range of products and services, or if you'd like to receive a free quote, contact our team today, or fill out our online enquiry form.
We look forward to working with you soon.
QLD: 1800 26 10 50
VIC: 1800 29 29 00
With so many choices available when it comes to your soap dispenser, it's difficult to tell which one is going to work best for your business. This is where Ozifresh comes in, and we're happy to tailor a soap dispenser to suit your needs and bathroom size.
Ozifresh Has Quality Liquid Soap Dispensers
We only work with the best suppliers in Australia to bring premium soap dispensers to our customers. No matter how large or small your bathroom may be, we can customise a soap dispenser order to suit your needs. Whether you need one or multiple, Ozifresh is ready to help you decide on the correct amount for your employees, customers and clients.
We have both foam and liquid soap dispensers on hand and ready to ship straight to your business, and we're happy to help you decide which style best goes with your bathroom aesthetic. You'll find both large and small soap dispensers available in our stock, and they come with options like bulk fill and automatic dispensers as well as manual.
Trust Ozifresh's Reputation with Customers in Australia
We have a solid reputation for having the products on hand and ready to go that will last for years. In turn, we've built a steady client base that encompasses dozens of different small and large clients that are happy with our products. They return again and again for our fast service, professional staff and our dedication to exceeding expectations.
Contact Ozifresh Today!
Ready to upgrade your current soap dispenser? Maybe you're opening a new site and you need soap dispensers installed before you open your business. Either way, Ozifresh is ready and willing to help in any way we can. You can contact us today to start the process!
FAQs
What types of soap dispensers are available at Ozifresh?
At Ozifresh, we offer a comprehensive range of soap dispensers, including commercial wall-mounted soap dispensers, as well as foam and liquid soap dispensers. These come in various options such as bulk fill, automatic and manual dispensers.
Can Ozifresh help me choose a commercial soap dispenser to suit my business needs?
Definitely! Our team can help select soap dispensers for commercial use to suit your unique needs and washrooms. Contact our knowledgeable team today to discuss your requirements and get a free quote.
What other products and services does Ozifresh offer?
Aside from dispensers, Ozifresh offers a range of other hygiene products and services, including urinal deep cleaning and deodorising, complete washroom hygiene servicing, sanitary bins, air freshener dispensers and more. Contact us about your requirements, and we'll customise a solution for you.
How often do I need to refill a commercial soap dispenser?
The frequency of refilling depends on the size of the commercial soap dispenser and the amount of usage. We can help you determine the appropriate amount of soap for your needs and schedule regular refills based on your requirements.
Can I choose between foam and liquid commercial soap dispensers?
Yes! Ozifresh offers both foam and liquid commercial soap dispensers. We can help you choose the best option based on your preferences and needs.
Do you offer installation services for soap dispensers for commercial use?
Yes, we offer installation services for commercial soap dispensers, as well as regular maintenance and repair services.
How can I order soap dispensers for commercial use?
You can contact our sales team by phone or email to place an order or request a free quote from our website. We will work with you to determine the best commercial soap dispensers for your business and provide a competitive price.
Additional Images