Sanitary Bins and Feminine Hygiene Disposal Bins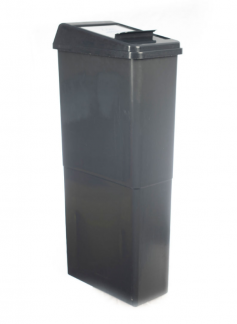 Is your business in need of a sanitary bin collection service? Ozifresh sanitary bins service will keep your bathrooms' bins clean and appealing and your employees and patrons safe from harmful bacteria.
What's included in our sanitary bin services
Regularly emptying and cleaning sanitary bins is essential to maintaining a hygienic bathroom. At Ozifresh, we are proud to supply high-quality sanitary disposal services at an economical rate. Our services include:
Fresh bin replacement — Our team will regularly empty and replace existing bins with new bins, cleaned, deodorised, and sanitised before delivery. We also use antibacterial cleaning agents to remove harmful microorganisms. When your staff or patrons need to use them to dispose of their sanitary products correctly, they can do so safely and confidently, knowing their needs have been tended to with care and consideration.

Specialised sanitation of each bin — Since sanitary bins are filled with bacteria-infested waste, we install each bin with a special sanitised liner containing the "Sanisand" compound. This liner eradicates bad smells and bacteria and ensures that subsequent users have an odour and germ-free bathroom experience.
Specialist Sanitary Bins Suppliers for Melbourne & Brisbane
At Ozifresh, we specialise in both the supply and the regular servicing (replacement) of sanitary bins in restroom cubicles across Melbourne, Brisbane and the Gold Coast. We use neat, slimline charcoal grey units as our standard bins with other models available upon request. An Australian owned and operated company, you can rely on our experience team to provide you with a quality service, every time.
Keep your restrooms clean with sanitary disposal bins
It's always best to hire a professional when it comes to keep your restrooms clean. This is why at Ozifresh we ensure that each and every service is completed to the highest possible standards. When our team visits your restroom, we exchange the existing units with fresh bins that have been cleaned, deodorised and sanitised before delivery. We install each bin with a special sanitised liner and our unique "Sanisand" compound which combats malodour and bacteria. We also use an antibacterial cleaning agent that provides the highest possible hygiene level for each unit.
Whether you run a restaurant in the Gold Coast, a cinema in Brisbane or an office in Melbourne, Ozifresh always provide a friendly, professional service. We can cater our service frequency to suit your individual requirements, as we understand that every business has varying needs.
Sanitary bin disposal available in Melbourne, Brisbane & the Gold Coast
Ozifresh have been leading the industry in restroom hygiene and sanitary bin disposal for over 30 years. All of our staff are reliable, professionally trained and experienced in using the latest sanitary technology and products. With a variety of options available to suit your company's needs and budget, Ozifresh can supply sanitary disposal bins throughout Brisbane, the Gold Coast and Melbourne. We also provide a range of other options depending on your requirements, including air fresheners, soap dispensers and urinal drain cleaning.
If you would like to learn more about our sanitary bins or any of our other products and services, please feel free to get in touch by calling us on 1800 26 10 50 (for Brisbane and the Gold Coast) or 1800 29 29 00 (for Melbourne). We look forward to hearing from you.
Our staff excel at supplying and replacing sanitary disposal bins in restroom cubicles for our customers. Our neat and streamlined designs paired with our charcoal grey colouring on our sanitary bins make them the perfect complement to most decors and colour schemes. If you need something different, we have other sanitary disposal bins available upon request.
Ozifresh has Premier Sanitary Bins for Commercial Use
Our team of industry professionals are able to come in, assess your space and recommend the best sanitary disposal bin for your needs. Once you pick out our sanitary bins, our staff will work to install them in a professional and efficient manner with minimal interruption to your day. We clean, sanitise and deodorise each bin before we deliver it, and this allows you to get the peace of mind that comes with knowing you have a spotless area for your customers.
Each bin also comes with a special sanitised liner and a "Sanisand" compound that is unique to Ozifresh. This compound effectively combats bacteria and odours that could cause a problem with your restrooms, and our antibacterial cleaning agents ensure that you get the cleanest possible sanitary bins each time we swap them out.
Since every business has different needs, we'll tailor our services to suit you. No matter if you need sanitary bins once a month or sooner, Ozifresh will set up a schedule that fits your situation.
Why choose our
sanitary bin collection service
for your business
Ozifresh has been the industry leader in odour control and washroom hygiene for nearly forty years and is recognised for its service, quality and reliability. Our staff are trained in cleaning and handling the latest washroom technology and products. In addition to our commercial sanitary bins service and air fresheners, our range of sanitiser and soap products meets every business demand. From restaurants to offices and other businesses, we will tailor our sanitary bin services to meet your requirements and budget.
Reach out to us today to discuss how our sanitary disposal services can help you ensure the health and wellbeing of your staff and patrons.
FAQs
What are the legal requirements for sanitary bins?
Australian sanitary unit laws state that all employers must install a sanitary unit in every cubicle, including unisex and female bathrooms.
Can I catch illnesses from improper sanitary bins?
In short, yes. Dirty or overflowing sanitary bins are unsightly and can also attract rodents or bugs, which can pose several health risks to your bathroom users.
How can I keep my washrooms safe from infection?
The best and easiest way to ensure your washrooms stay safe and clean is to enlist the help of professionals. By installing our products and taking advantage of our sanitary bin collection service, you can effectively mitigate the health risk posed by used hygiene products and ensure the safety of bathroom users all day long.
Additional Images