Nappy Disposal Bin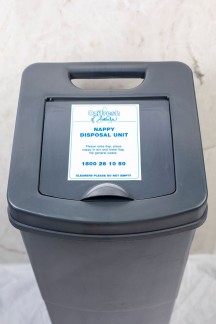 Our nappy disposal system consists of larger units. Each Nappy bin has been thoroughly cleaned and sanitised at our premises before delivery. Each Nappy bin unit also has a sanitised poly-liner with a built-in fragrance PLUS the use of our 'sanisand' compound which provides all levels of bacteria and odour control. This two fold system of hygiene is your guarantee in providing a safe, clean and efficient environment. Nappy bins are exchanged on a regular basis, depending on your situation.
Why Choose Ozifresh for Your Nappy Bins
Our clients trust us to provide high-quality products for their facilities, and they keep on coming back to us for equipment and services they can really rely upon. But why is this? Why should you choose Ozifresh for your bathroom bins and more?
We've compiled some of the key factors that set us apart below.
Incredible Durability and Reliability
When it comes to nappy disposal bins, you do not want to settle for second best. You need something that is going to keep your space fresh and clean, and that can be easily taken away for disposal and sanitation when required. With expert design and construction, our bins fit the bill perfectly.
Services You Can Trust
We can deliver and manage your nappy bins based upon your needs. Let us know where your facility is, and we can arrange for our products to be sent out to you. We can also ensure that exchanges are scheduled and carried out without delay. Let us know what you need, and we will provide you with a quote for our services.
Professional-Grade Features
The Sanisand sanitation compound, built-in fragrance, and sanitised poly-liners mentioned above are representative of our commitment to high quality. You will see these kinds of features across our whole product range.
Get Started with Ozifresh
Ready to begin? Ready to experience the difference that working with a professional and reliable hygiene bin and washroom cleaning specialist can bring to your organisation? Then it's time to get in touch.
We operate from offices in Melbourne, Brisbane, and the Gold Coast, so we are well-positioned to meet your needs. Use the button below to open the quote form, tell us what you need, and then submit. We'll be in touch with a free of charge, no-obligation quote.
Additional Images