Sharps Container Disposal Services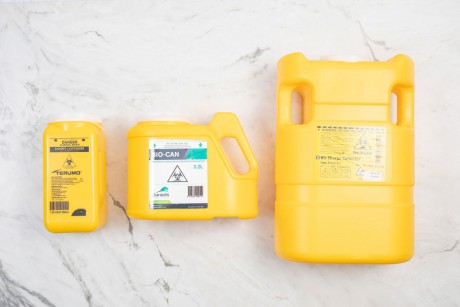 Ozifresh offers sharps bins and sharps container disposal to clients in Brisbane, Gold Coast, Melbourne, and beyond.
Get Sharps Disposal From Ozifresh
We understand that proper disposal of sharps bins is essential for maintaining a safe and healthy environment. That's why we offer efficient, affordable sharps disposal containers and sharps container disposal services.
Contact Ozifresh today for a free, no-obligation quote.
Disposing of Sharps Containers
With the ever increasing need to supply a healthy and safe working environment for employees and for your customers, sharps containers are becoming more of a necessity than ever before. We use state-of-the-art equipment and techniques including lockable containers to loose collection vessels for staff use, to ensure all waste is properly contained and disposed of. This minimises the risk of exposure to harmful pathogens and other contaminants.
Our lockable containers are made of the sturdiest steel and have a dual locking system that provides a safe and sturdy solution for sharps disposal in any area. All collection containers are made of puncture resistant plastic and meet all Australian standards.
All units are collected by trained staff, returned to our facilities and placed in special collection bins. These are disposed of through registered waste companies that specialise in this removal.
Why Choose Ozifresh?
With more than 40 years in the industry, we know a thing or two about safely disposing of sharps. We offer a complete service:
Fully licensed, insured, and trained to handle sharps disposal waste

Latest equipment to ensure waste is properly contained and disposed of

Fast, reliable service tailored to meet the needs of your organisation
How It Works
Setting up your sharps container disposal service is simple and fast.
1: Contact Us
We'll discuss the type and volume of your waste and any other relevant details. This lets us offer you the best solution.
2: Personalised Service Proposal
Next, we create a custom service proposal to meet your sharps bin disposal needs. It covers things like the frequency of waste collections and compliance. It will also explain our service offerings and pricing structure.
3: Agreement and Service Contract
Once you're happy with everything, we can set up your sharps container disposal services. It's that simple!
Cost of Sharps Container Disposal
We offer competitively priced professional sharps disposal. The cost will depend on the amount and type of waste you have and how often it's collected.
Need a Sharps Disposal Service You Can Trust?
If you're looking for dependable sharps bins and sharps container disposal services in Gold Coast, Brisbane, and Melbourne, you just found them!
Get a free, no-obligation quote today.
Additional Images