Baby Changing Table Station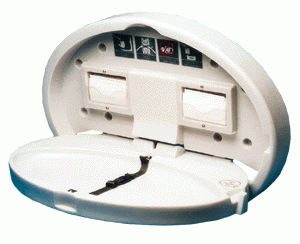 Convenient and discreet, our fold away baby changing tables provide a safe service for your staff and clients most precious commodity.
Our units are made of a high density plastic which will not absorb moisture or odours and ensure easy cleaning. With a concave bed and safety strap you can be confident that the baby will be secure on the changing surface. Its modern stylish design suits any décor, while its low profile and round edges do not obstruct customer traffic.
Some bathrooms don't have a lot of space, and this is where Ozifresh's discreet and convenient baby changing tables come in. We offer a baby changing station that folds away when it's not in use and provides solid support for both staff and customers to take care of their child in comfort.
We understand how important it is to have everything you need in easy reach when you have a child on the nappy change table. This is why we have a baby change table with built-in wipes. When you combine this with the high-density plastic, you get a product that is convenient to use, and that will last for years.
The baby changing station comes with a concave bed and a safety strap that secures your baby. This gives you the peace of mind that comes with knowing your child will be supported and happy the entire time you use the nappy change table.
Create a Stylish Look With Ozifresh's Baby Change Table
The compact and stylish design, coupled with the neutral colour palette ensures that it'll fit beautifully into any decor or colour scheme. The flat design and the rounded edges mean no obstruction to the natural flow of traffic in and out of the restroom.
The heavy-duty plastic is easy to clean and maintain, and it doesn't absorb any moisture or smells. Your cleaning team can simply wipe it down with some antibacterial cleaner, reload the paper napkins and go about their duties. The plastic will dry and be ready for the next parent.
We also have a deluxe stainless steel range for those that require a more modern look. Ask us about our complete range by contacting us today.
Contact Ozifresh for a Quote on Our Nappy Change Table Today!
Don't go another day without giving your staff or customers everything they need to keep their children happy and clean. Contact us today!
Additional Images