Commercial Sanitary Bins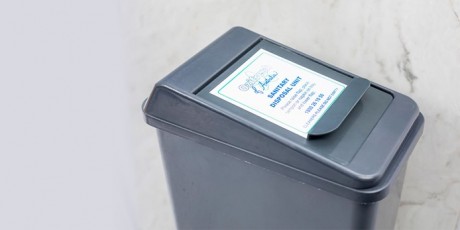 In order to create a comfortable environment where people can freely dispose of waste products while using the bathroom, commercial sanitary bins are essential. At Ozifresh, we've specialised in the supply, replacement and regular servicing of these units for over three decades, so you can trust that our professionally trained and experienced staff will complete every washroom hygiene service to the highest possible standards.
Our sanitary bins for commercial toilets contain a unique "Sanisand" compound that combats malodour and bacteria, keeping areas clean, neat, tidy and germ-free. So, whether you run a restaurant, cinema or need sturdy, durable and premium supplies for an office toilet space, we can cater our commercial sanitary bin services to suit your unique requirements and budget.
The importance of sanitary bins for commercial use
Hygiene and safety — Sanitary bins for commercial toilets are used for the disposal of hygiene products such as tampons, pads and liners. Given these are packed with bacteria, commercial sanitary bins must be emptied and cleaned regularly to ensure the safety of all staff members. Our team at Ozifresh takes on this task with ease, exchanging and replacing units with fresh bins that have been thoroughly cleaned, deodorised and sanitised before delivery. Plus, we use antibacterial cleaning agents that eradicate harmful bacteria while cleaning all dirt that can build up in the tray. Matched to your business needs and budget, our waste management solutions will keep your restrooms clean, so your staff can dispose of products discreetly and safely with minimal contact.
Cleanliness — When you install sanitary bins for commercial toilets, you reduce the risk of hygiene products being discarded on the floor or scattered around the toilet entry. This clutter and germ-filled mess can pose a safety risk to those using the bathroom, so installing a sanitary bin will negate this issue.
An odour-free bathroom — Our commercial sanitary bins are infused with an odour-free technology that ensures superior hygiene solutions while keeping your toilet free from nasty smells. We install each container with a unique sanitised liner, and they are regularly cleaned, replaced and maintained.
Contact Ozifresh for the installation of sanitary bins for commercial toilets
With a highly-skilled and qualified team, you can rest assured that our discrete and effective sanitary hygiene solutions will ensure your staff feel comfortable and safe in disposing of personal waste. Get in contact with us today and request a free installation quote to get started.
Commercial
Sanitary Bins
: Frequently Asked Questions
Want to learn more about our commercial sanitary bins and how to maintain them? Keep reading for answers to all your frequently asked questions.
What Is the Difference Between a Sanitary Bin and a Regular Trash Bin?
A sanitary bin is designed for feminine hygiene products like pads and tampons. Our sanitary bins have odour-fighting and bacteria-controlling technology inside them to keep your restroom smelling fresh and hygienic.
Are
Sanitary Bins
a Legal Requirement in Australia?
Yes, in many places in Australia, it's a legal requirement to have sanitary bins in public restrooms, especially in businesses. These bins help maintain hygiene and prevent clogs in plumbing systems. Always check local regulations to make sure you comply.
How Many
Sanitary Bins
Do I Need in My Public Restrooms?
In most cases, you will need at least one per bathroom stall. For high-traffic restrooms, you might need more bins. Ozifresh experts can help you determine the right amount to keep things clean for your visitors.
How Often Should
Sanitary Bins
Be Emptied?
This depends on how busy your restroom is, but our standard service frequency is 4 weekly. Our team can create a schedule that suits your needs and ensures that your bathroom remains hygienic.
How Much Does It Cost to Install and Maintain Commercial
Sanitary Bins
?
Your cost may vary depending on how many bins need servicing and the type of bin you choose. However, we offer customised solutions to fit your budget. Contact us today for a quote.
Call for Commercial
Sanitary Bins
in Australia Today
If you have any additional questions or want to install sanitary bins in your commercial spaces, call us today. We'll schedule an appointment and help ensure your bathroom has everything it needs to remain clean and hygienic.
Additional Images