Commercial Bathroom Cleaning Supplies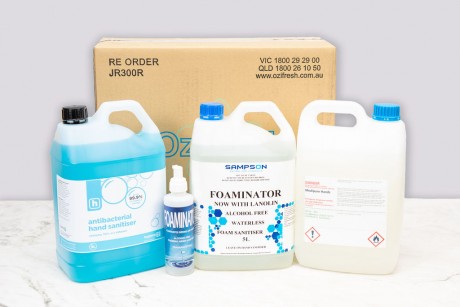 While other hygiene companies can supply the generic brand type cleaning chemicals, at Ozifresh we source the best cleaning chemicals available to the market. We believe if it makes a cleaners job easier and a bathroom cleaner, it will compliment our world class range of hygiene products and make them as effective as they can be.
Specialist cleaning products for toilet bowls, urinals, washroom floors and basins will make your facilities the best they can be.
The more specialised a cleaning product, the quicker & easier it is to clean particularly hard to clean surfaces. We make specialist cleaning products so that your staff can always keep your workplace clean & safe to work. Our bathroom & washroom cleaning chemicals are sure to keep these areas clean in your workplace.
Australian owned & operated; Ozifresh has been supplying businesses with the cleaning chemicals they need to keep their workplaces clean & hygienic since 1984.
We pride ourselves on our exceptional customer service & all of our staff are professionally trained and experienced in using the latest washroom technology and products.
Why Use Specialist Cleaning Products?
As a business owner or manager, it is your responsibility to keep your workplace safe, hygienic & running smoothly for both customers & employees. Now more than ever, keeping our workplace conditions hygienic and sanitary has become a must in keeping our team safe & healthy.
Maintaining a clean & functioning bathroom is a must; a bathroom that is not cleaned regularly can create unhealthy & unsanitary working conditions that put employees at risk. Bathrooms are high contact areas that typically many employees will frequent more than once throughout the day – this can spell problems if this area is unhygienic.
Get In Touch Today
Whether It be odour removers, floor cleaners, toilet sanitizers, hospital grade disinfectant or specialised chemicals, we can help you. For a free quote click here.
Additionally, if you would like our expertly trained team of cleaners to take care of your commercial bathroom cleaning on a regular basis or conduct a urinal deep clean of your on-site bathroom facilities, click here to get in touch. Otherwise, you can get in contact with our sales teams using the contact numbers below:
QLD: 1800 26 10 50
VIC: 1800 29 29 00
Additional Images