Disinfectant Fogger Machine and Fogging Solution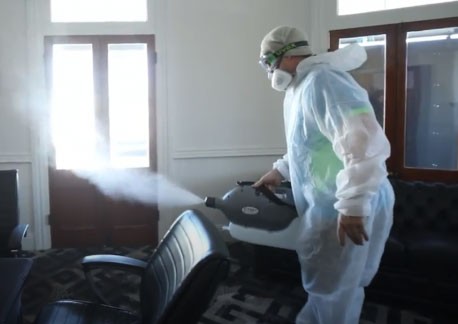 Ozifresh uses a Hospital Grade Surface Spray Disinfectant that bonds with surfaces creating a residual barrier that fights harmful germs and viruses long after it has been applied. The product lasts effectively for 28 days (contact us for efficacy test results and more information). It works alongside all current cleaning regimes to offer an increased level of protection second to none.
Ideal for use on all surfaces including benches, stainless steel, PVC plastics, aluminium, wood, linoleum, carpet, curtains and fabrics. The product is odourless and once the treatment has been applied it is safe to return after only 1 hour. This makes the product ideal for use in -

Schools & Churches
Sporting Facilities
Apartment & High-rise Buildings
Stadiums
Gyms
Restaurants & Cafés
Theatres
Offices
Service Stations
Nursing Homes
All businesses
What are the main differences between our product and the others on the market?
The product is long lasting, only requiring monthly application whereas competitors products dissipate within minutes.
The product is safe to use on most fabrics while others damage and stain fabrics.
While competing products poison cells allowing mutation, our product physically destroys cells.
We have had access to this reputable product for a number of years and stand by it in a market where there are a number of unskilled, reckless businesses pushing inferior products that are not even being applied properly and then charging a premium. Ozifresh Australia is bringing a safe, well researched solution to keep your business safe. Contact us today to organise a quotation and help keep your people protected.
Commercial Surface Sanitisation / Sanitisation Fogging
Hygiene has always been paramount in the workplace, but it's even more so today. It's now highly recommended that you supply all of your washrooms at the office with antibacterial soaps, hand sanitisers and bins to minimise the chances of spreading germs amongst your employees. Another effective preventative measure is sanitisation fogging which eliminates contamination on all surfaces.
We offer complete sanitisation fogging and our team of professionals can help you improve your overall hygiene to make your workplace a healthier and safer environment for your employees. Along with this, our staff will keep a close eye on the supplies in all washrooms to ensure a consistent supply and follow the highest hygienic standards, allowing you to focus on more critical business obligations.
We really care about our customers, so we tailor each sanitary project to specific needs. Call us today and allow our experienced hygiene experts to make sure that your business gets the latest hygiene protection.
Additional Images