Hand Sanitiser Dispenser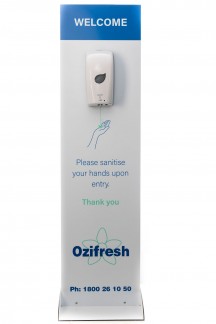 With a heightened awareness of hygiene and exponential increase in hand cleanliness, waterless hand sanitising is a huge requirement for every business. Here at Ozifresh we are providing a number of options to cover every scenario your business may require.
We utilise local established manufacturers that deliver a reliable supply flow for all your needs. We manufacture a 70% alcohol sanitiser that can be bottled in bulk or in individual packs. For those looking for an effective, alcohol free alternative we have a BAC sanitiser.
We have automated and manual dispenser solutions that can be wall mounted or utilised on our range of stands. We have provided 100's of branded stands at significantly economical pricing that will help you protect your staff and clients, as well as stand out from the crowd.
70% Alcohol Sanitiser (60ml, 500ml, 5ltrs)
BAC Alcohol Free Sanitiser (240ml Foam packs, 5ltrs)
Auto foam / liquid / spray Dispensers
Manual foam / liquid / spray Dispensers
Branded Sanitiser Stands
Basic Sanitiser Stands
Hand Sanitiser Stations
Hand Sanitiser Stations
Ozifresh industry leaders in sanitisation & hygiene products and services, we are happy to inform you that our services are available in Brisbane, Gold Coast, and Melbourne.
The Everlasting Importance of Hygiene
The hygiene industry has been paramount throughout time in helping to reduce and eliminate contagion. Today, it is one of the most important aspects of living a healthy life. It is equally important in your home and in the workplace. If you want to make sure that all your facilities are well maintained and functional, Ozifresh is your go-to partner.
We can help you improve the quality of your washroom facilities in Brisbane, Gold Coast, and Melbourne. With us, by your side, you will not only help your employees maintain proper hygiene but also delight your customers with easy to use products that use technology to assist in no contact.
Comprehensive Range of Reliable Products
Here at Ozifresh, we only have one goal - to help you maintain proper hygiene in your facilities. To be able to do it, we offer a comprehensive range of reliable products. In our packages, you will be able to find:
Hand sanitiser dispenser

Wall-mounted hand sanitiser

Wall-mounted hand sanitiser holder

Foam hand sanitiser dispenser
Since hygiene is very important, we use modern solutions to help you effortlessly improve it. Our offer also includes hand sanitiser dispenser, hand sanitiser dispenser wall-mounted products, and hand sanitiser wall holders. We even went one step further to offer you automatic hand sanitisers, no-touch hand sanitiser dispensers, and waterless hand sanitiser dispensers.
Dependable Services
Ozifresh employees are highly trained and experienced. They are equipped with proper tools and the latest washroom hygiene technology to deliver dependable services. Whether you want to install an automatic hand sanitiser dispenser stand, hand sanitiser stand, or hand sanitiser station, our team will be able to do it without disrupting your business.
Our services also encompass installation and maintenance of hand sanitiser wall dispensers, wall-mounted hand sanitiser dispensers, and foam hand sanitiser wall dispensers.
Why Choose Ozifresh
Thanks to our network of offices and experienced teams, we are able to reach you Australia wide. We offer a transparent pricing policy with no hidden costs. Choose us, and you will get access to high-quality products and dependable services to streamline your efforts to maintain proper hygiene.
Contact us today and we can tailor a solution to your business.
Automatic Hand Sanitiser Dispensers
Ensuring your employees can remain safe at work has never been more essential than now. You have a responsibility to provide your workers with everything they need to stay hygienic and prevent the spread of disease. That's why we stock one of the largest selections of automatic hand sanitiser dispensers in Brisbane, Melbourne and the Gold Coast.
At Ozifresh, we only source the most eco-friendly and effective automatic sanitiser dispensers on the market, all of which comply with the most stringent international health and safety standards. Our solutions can improve hygiene in your workplace significantly, which might be just what you need to meet your new hygiene protocols.
The Benefits of Automatic Sanitiser Dispensers
Whether you're looking for antibacterial dispensers for your home or office, we have just what you need, and we aim to offer the best value prices in the nation. If you're unsure of which solutions you require for your high use environment, don't hesitate to call our friendly and courteous staff, who will gladly provide obligation free advice.
In short, the benefits of automatic hand sanitiser dispensers include:
Workplace hygiene
Unlike manual alternatives, automatic sanitiser dispensers require virtually no direct contact, which helps prevent the spread of disease and infection.
Economical
With an automatic hand sanitiser, the same amount of antibacterial soap is dispensed every time, minimising waste.
Usability
Because automatic hand sanitisers are so easy to use and require no direct contact, your employees won't avoid using them.
We've grown to become industry leaders in Australia thanks to our expertise, vast selection of hygiene products and commitment to providing an exceptional level of customer service. Find out why our touch-free, motion-activated hand sanitisers are an essential addition to your home or workplace by giving us a call.
Browse Our Range of Automatic Sanitiser Dispensers Today
Our automatic hand sanitisers are suitable for just about all environments, whether you run a medical practice or an office block. Moreover, they're essential in helping contain the spread of the coronavirus, but they can work wonders for your workplace's overall hygiene standards.
If you want to learn more about our automatic hand sanitiser dispensers or need help narrowing down your options, don't hesitate to call our highly experienced and knowledgeable team. We'll gladly provide advice on which solutions you need to make your workplace as hygienic as possible.
Additional Images